Hendrickson says he will not sell larger Whitney estate to state
By Gwendolyn Craig
John Hendrickson, the widower of socialite and philanthropist Marylou Whitney, is selling the couple's former summer residence called "Camp on a Point" on Little Tupper Lake in Hamilton County. On 58 acres of land, the five-bedroom and four-bath home will be listed for $5.25 million and is separate from the 36,000-acre Whitney estate Hendrickson listed in 2020, which is still for sale.
Hendrickson said he no longer used "Camp on a Point," in a message to the Explorer on Thursday.
The Whitney and Hendrickson former summer home boasts over 7,000 feet of Little Tupper Lake shoreline, said Nicholas Politi, owner and associate real estate broker at Merrill L. Thomas in Lake Placid. Hendrickson and Whitney had commissioned the contemporary and modern structure about 26 years ago. It is a year-round residence that is off-grid, running off a generator and batteries.
Politi said "this is one of the most unique properties that we've had the opportunity to list for sale." Aside from the fact that it is nearly surrounded by forest preserve that cannot be developed, the property has views of the lake and mountains.
"It's a real opportunity to get back to nature," Politi said.
There are two other residences on the 2,300-acre Little Tupper Lake aside from the former Whitney Headquarters, Politi added, which is now a state administrative site. In addition to the 58 acres of land, Politi said, the listing includes 71 acres of Little Tupper Lake. The property has road access via Sabbatis Road.
View the listing here: https://www.adirondackestates.com/properties/575-sabattis-road-long-lake-ny-12847/.
The property is separate from Whitney Park, a coveted estate in the central Adirondacks, that Whitney and Hendrickson sold a portion of to the state in 1997. The approximately 15,000 acres, including most of Little Tupper Lake, was dubbed the "crown jewel of the Adirondacks," by former Gov. George Pataki. But about 36,000 acres remain privately owned by Hendrickson through Whitney Industries, a logging company.
36,000 acres
Environmental organizations in the Adirondack Park have been longing for the full Whitney Park–listed for $180 million–to become part of the Adirondack Park forest preserve, 2.7 million acres of constitutionally protected lands that cannot be sold or leased. Whitney Park is one of the largest private inholdings left in the 6-million-acre mix of public and private lands in the largest park in the lower 48 states.
Whitney Park is named for William C. Whitney, secretary of the U.S. Navy under President Grover Cleveland, who purchased thousands of acres in the Adirondacks in 1897. Marylou Whitney married William C. Whitney's grandson, C.V. "Sonny" Whitney. After C.V. Whitney's death in 1992, Marylou Whitney married John Hendrickson. Marylou Whitney died in 2019.
Whitney was a devoted seasonal resident to Long Lake, but after her death, Hendrickson said visiting the area was not the same. "I have to create my own memories now," he had told the Explorer three years ago.
Hendrickson listed the 36,000-acre Whitney Park, which has more than 20 water bodies and hundreds of miles of roads, for $180 million. It also included the 17-bedroom Camp Deerlands, which overlooks Little Forked Lake. Hendrickson told the Explorer that he recently purchased another Great Camp, Camp Togus, which is on Forked Lake. Previous owners had called it Camp Buttercup. That building is now part of Whitney Park, too, he wrote.
Hendrickson has been actively marketing the property. It has been featured in the August issue of "Quest Magazine" and the spring issue of "The Land Report."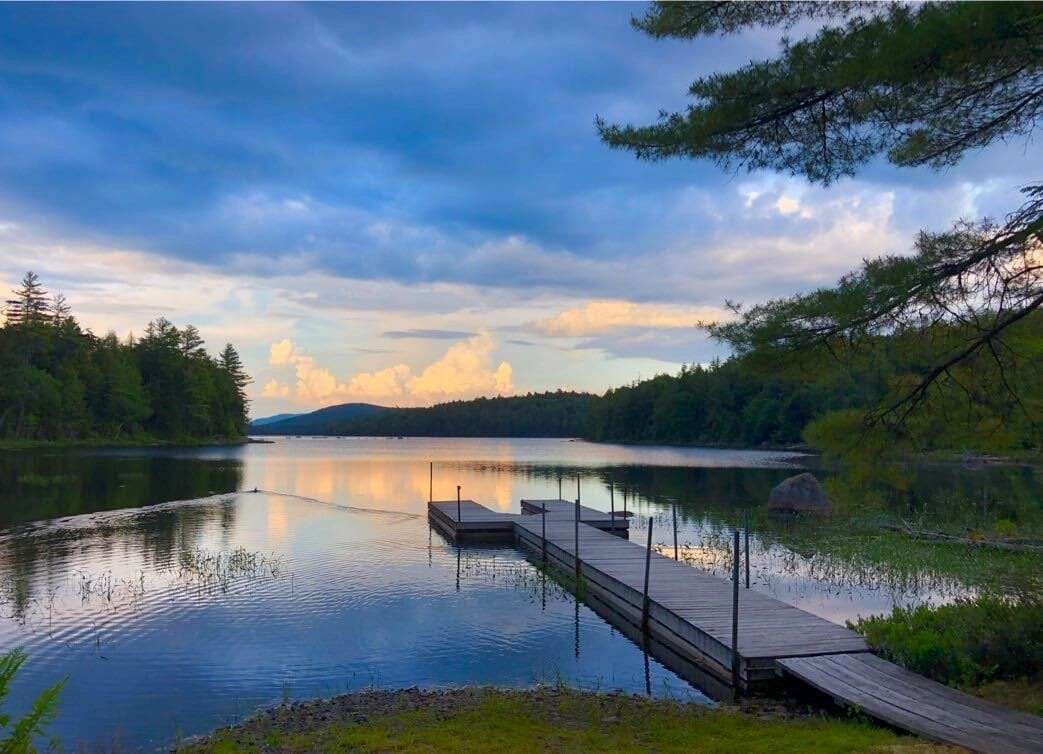 When the listing was announced in 2020, its price tag spurred several local leaders to criticize the $5,000 per acre. Basil Seggos, commissioner of the state Department of Environmental Conservation, had called it a "stunning purchase price." Hendrickson believes it is a fair price and pointed to the Florida developer Pritam Singh, who recently purchased the 945-acre former Crossett Lake Boy Scout Reservation in Washington County for $9.5 million. That's about $10,000 an acre, Hendrickson noted.
In the spring of 2021, Hendrickson said he planned to subdivide the property into 11 parcels, about 3,200 acres each. In total, he had expected the sales to bring in $238 million. In order to subdivide, Hendrickson would need a permit from the Adirondack Park Agency, which oversees public and private development.
But Hendrickson said he is still getting "bites" on the full 36,000 acres, though he said subdividing could be an option. The subdivision process, he wrote, is going slowly. In response to the Explorer's Freedom of Information Law request for any pre-application materials for a subdivision of the Whitney estate, the APA said it could find no such records.
Open Space Plan
The state lists the property in its 2016 Open Space Conservation Plan as one it would hope to acquire. The DEC and state Office of Parks, Recreation and Historic Preservation announced on Wednesday that they were updating the plan.
With $650 million for open space land conservation and recreation designated in the $4.2 billion Clean Water, Clean Air and Green Jobs Environmental Bond Act, as well as a charge to conserve 30% of the state's lands and waters by 2030, the property could help the state with its climate goals.
But Hendrickson said he will still not sell the historic property to the state. He wrote "not" in all capital letters. After the 1997 sale, someone introduced bass into the lake, which caused damage to the native trout population. The experience has given Hendrickson a poor view of the state's stewardship capabilities.
The best deal in the Adirondacks
In honor of our 25th anniversary, we have a special deal for you!
Use the code 25for25 to save 25% on any subscription purchased through our website.
A spokesperson for the DEC said the department "does not comment on potential land negotiations. In general, DEC is always open to conversations with landowners who are interested in exploring conservation outcomes for their properties."
It remains to be seen if the state will continue to list the rest of the Whitney estate in its open space plan.
So far, the state has organized nine regional councils to provide recommendations. The Adirondacks have their own council. The new version of the plan will take about two years to complete, according to a news release. A public comment period is expected in the summer of 2024.
"Land conservation is an essential tool in New York State's comprehensive actions to address climate change and protect our natural resources," said Seggos, in a news release. "As work begins to revise the New York State Open Space Plan, DEC and our state and local partners will look to both preserve our lands and waters for future generations while ensuring priorities and projects help to advance New York's Climate Leadership and Community Protection Act and align with the State's efforts to conserve 30 percent of our lands and waters by 2030."
Editor's note: This story has been updated with the real estate listing for Camp on a Point, as well as additional photos.
Adirondack policy, in plain speak.
Get Gwen's weekly "Adirondack Report" newsletter
---