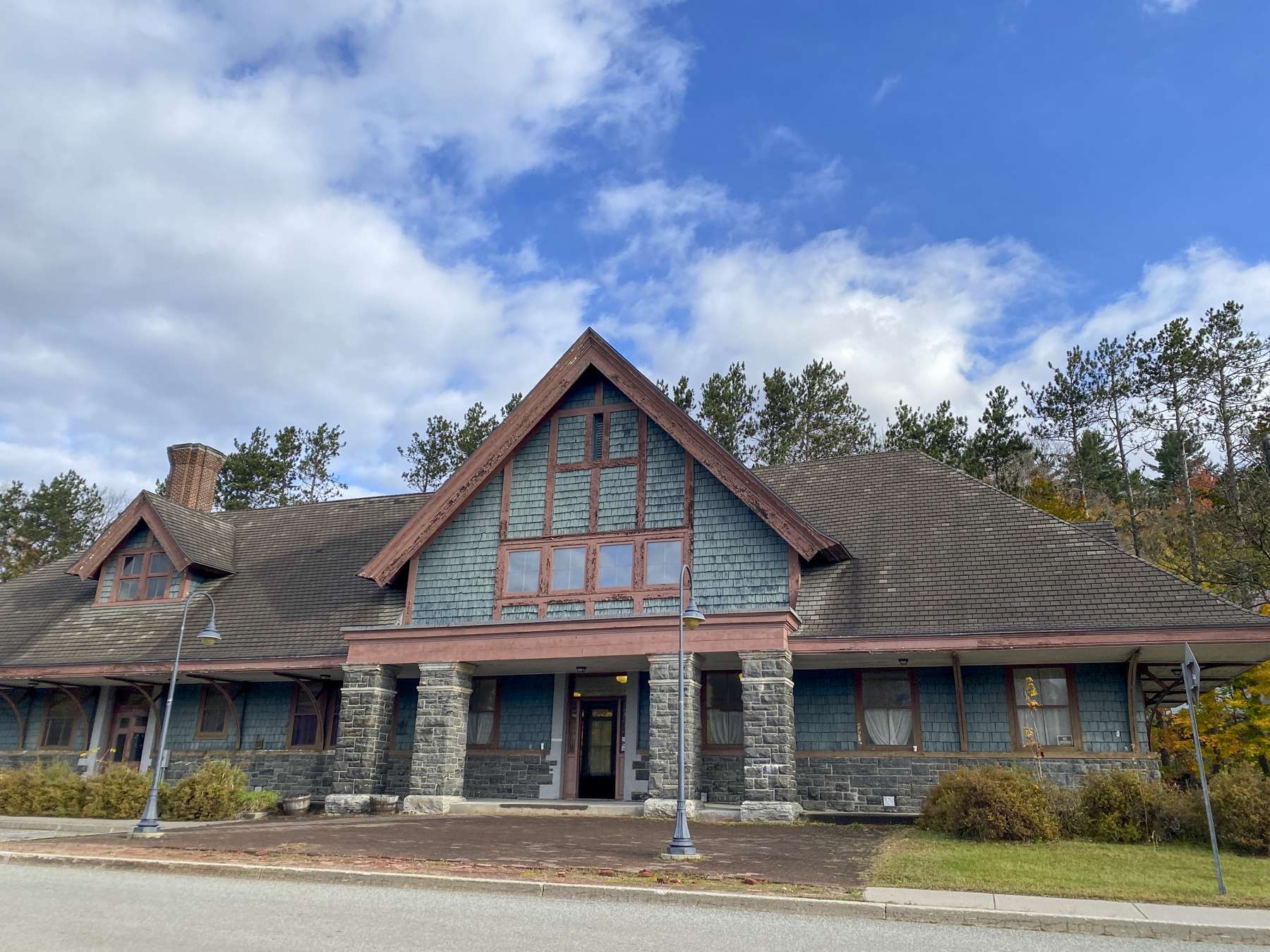 The historic building is a former railroad station
By Mike Lynch
With construction of the Adirondack Rail Trail between Lake Placid and Saranac Lake nearly complete, the state is working on plans for Saranac Lake Union Depot.
The Delaware and Hudson Railroad built the Union Depot in 1904 and used it as a passenger station until 1965. Since then, it's had various occupants. A rail bike operation and Adirondack Scenic Railroad most recently inhabited it in 2015.
But the state Department of Environmental Conservation, which now owns and manages the facility, is looking to transform it to meet the modern needs of the trail.
Anticipated users include cyclists, walkers, skiers and snowmobilers. The trail section between Lake Placid and Saranac Lake is expected to open in late November and will become the first segment fully open to the public.
DEC sent out a request to the public, asking people and organizations to submit proposals or ideas for using the former station.
"Our primary objective is to serve the users of the rail trail and to perpetuate historic preservation," Regional Forester Rob Daley said. "But we also want it to integrate with the community."
The 3,900-square-foot, single story building was restored by Historic Saranac Lake in 1998. It's listed on the National Register of Historic Places.
However, it now needs roughly $2 million in repairs, which would take about a year to complete. That estimate, prepared for DEC by Lomonaco and Pitts Architects, P.C. in 2022, could be as low as $1.5 million or as high as $2.9 million.
The depot is located on the periphery of downtown Saranac Lake, next to the Adirondack Carousel and across the street from the future site of a proposed children's museum. It will contain restrooms and trail information.
Next to the depot is the 1,200-square-foot Freight Building that DEC also owns and manages. The department is also taking ideas about future uses of this facility, but the depot is the priority.
The Freight Building was used as an art gallery for several years about a decade ago by Hobo Fest co-founder Todd Smith. The first years of the Hobo Fest took place on the depot grounds before moving to Riverside Park and coming under new leadership and a new name, Northern Current.
Submissions for the depot will be accepted through Nov. 3. Submissions, questions, and tour requests should be sent to Comment.DepotRFI@dec.ny.gov.
"It does not have to be an entrepreneur or business consortium, it can just be an individual with an idea," said DEC spokeswoman Kendra Ormerod, noting they are accepting detailed plans.
Rail Trail to Open
Although the state had originally hoped to have the rail trail between Lake Placid and Saranac Lake open in the fall, perhaps October, it now appears the route won't open until Nov. 20.
The stretch had a high number of bridges, which were time consuming to build, said project manager Keith Carrow. In addition, the wetland permitting got delayed and torrential rain storms in July and August alerted the state and construction crews to drainage issues that had to be rectified.
Carrow also said work will pause across the 34-mile trail from Dec. 18 to March 31. That will allow snowmobilers, skiers and others to use it during this period.
In the meantime, DEC is continuing to ask users to stay off the trail from Lake Placid to Lake Clear because of safety issues.
To emphasize the importance of staying off the trail, Carrow said a cyclist came inches away from getting hit by a bulldozer as it was backing up about a month ago. He also said cyclists have ridden by crews and tapped people on the shoulders while they are "actively working."
"That's why we want it closed because we can't presume that the users are exercising absolute caution," Ormerod said.