By Sierra McGivney
Winter hiking may seem daunting and dangerous in the Adirondacks, but with the right pair of snowshoes and clothes, winter hiking can be a rewarding adventure. A 360-degree view from a frost covered fire tower can make the journey even more rewarding.
Hiking trails in the winter are serene and less overcrowded than in the summer months. On weekdays hikers might have the whole summit or trail to themselves.
Strapping on a pair of snowshoes and heading for a walk in the woods is a great way to still get outside while avoiding others during the pandemic.
Get started with planning a winter hiking trip to get out of the house and enjoy all that the winter has to offer. Don't forget to pack layers, food and water. Winter weather can be brutal and change easily. Below I've highlighted five articles that feature mountains with fire towers, located all over the Adirondacks.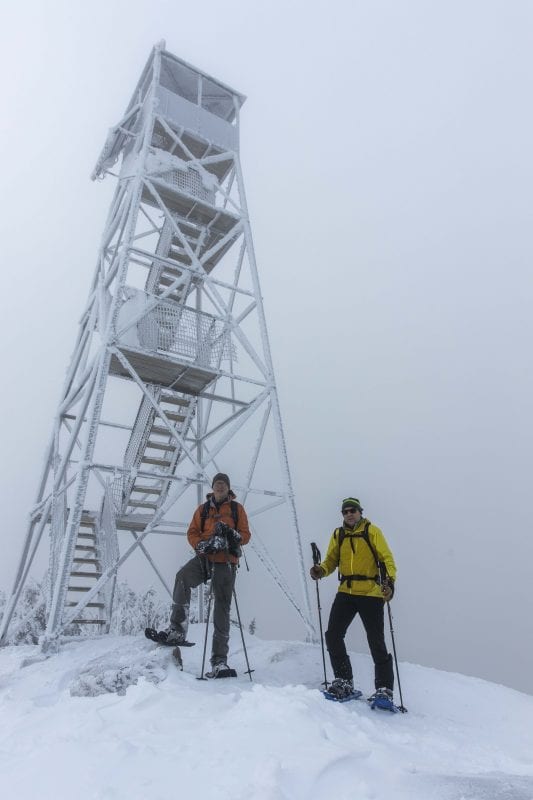 Hurricane mountain is known for its 360-degree view and crowded summit in the summer. Just under 4,000 ft, Hurricane is one of the popular non high peaks to hike. On a cold weekday in February Phil Brown and Tim Peartree ski and snowshoe up Hurricane mountain. They find solitude, evergreens and a snowshoe hare's trail. READ MORE
The St. Regis Mountain fire tower was originally built in 1918 and served as an active fire tower into the 1990s. In the past couple of years, the fire tower has been restored and visitors can enjoy the view of the surrounding area from the top of the tower. Mike Lynch and Doug Fitzgerald hike up St. Regis in the winter enjoying snowy trees and gorgeous views. READ MORE
Lyon Mountain offers two trails to choose from, an older steeper trail or a new longer meandering trail. Both lead to gorgeous views and the refurbished fire tower on the summit. Standing at 3,830 feet, Lyon Mountain is one of the higher fire tower mountains and longer with a total of 7.1 miles for the new trail. On a overcast morning in November Tom Woodman and Sue Bibeau snowshoe up the new trail, checking out all that is has to offer. They find views like no other in the Adirondack Park. READ MORE
Located in the town of Piercefield, Mount Arab stands at 2,546 feet. The mile-long trail leads to a restored fire tower at the summit of Mount Arab. Since the trail is only a mile up this hike is perfect for beginners and kids. Evan Williams and his father set out to snowshoe up the mountain on a sunny winter day in this article. READ MORE
This article features three great mountains for beginner to intermediate snowshoers. Coney, Adams and Tredway offer trails from 2.6 miles up to 7.6 miles and elevation gain between 515 feet up to 1,800 feet. Winter hikers can choose their challenge, although only Adams has a fire tower on the top. Each mountain offers unique views and features. Pick a mountain, go on a winter adventure. READ MORE