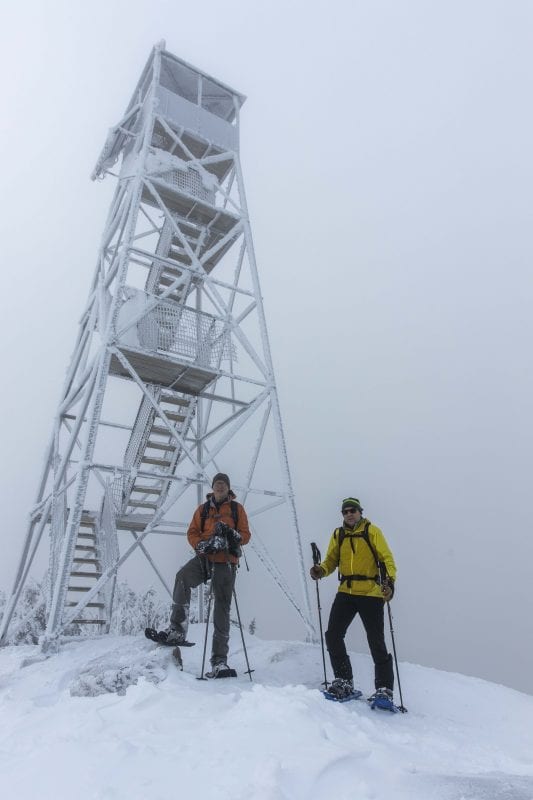 Finding solitude on a snowy trek
By Phil Brown
I don't need to heap up superlatives for the views from Hurricane Mountain. Breathtaking, spectacular, magnificent, etc. You've heard them all before. And you've seen the photos. Hell, you've probably been there.
With the views, of course, come crowds. On a summer weekend, good luck finding a parking place near the trailheads on Route 9N and at Crow Clearing. Even in winter, these trails are usually packed down.
Nevertheless, it is possible to summit Hurricane and not see a soul. You just need to follow these simple rules:
1. Take the little-traveled trail from the east.
2. Pick a weekday in February.
3. Make sure the conditions suck.
PHOTOS FROM THE TRIP
See Mike Lynch's gallery of photos from this snowy trek up Hurricane Mountain
I can vouch for this recipe, having tried it last winter with Adirondack Explorer photographer Mike Lynch and my neighbor Tim Peartree. We had a sound plan: ski for a few miles on gentle terrain, then switch to snowshoes for a steep 1.3-mile climb to the summit. It had snowed a lot in the days preceding, so that seemed to be in our favor. In hindsight, though, we were too late to catch the good snow. Warmer temperatures had begun to turn the fluffy powder into mashed potatoes.
The summer trailhead is at the end of Hurricane Mountain Road, a dirt lane off Route 9N. In winter, the road may not be plowed to its terminus. We had to leave our car about a half-mile before the summer parking area.
We set off up the road on skis. After going around a vehicular barrier, we passed a house. This part of the trail is on private land, so visitors should not wander. In a mile, we reached an unmarked junction and continued straight. Soon after, the trail took a sharp left bend near a posted sign.
Following a right turn, we started climbing gradually through a corridor of evergreens and passed a register at the state-land boundary. I especially was looking forward to skiing this stretch of trail and was disappointed to encounter blowdown in several spots. I did my best to remove it as we ascended. About 2 miles from the car, we reached a steep dip where the trail crosses a brook. This is where we switched to snowshoes.
At 3,694 feet, Hurricane falls short of High Peak status, but it ranks among the 100 highest summits of the Adirondacks. From the trailhead, hikers (or skiers) ascend 1,700 feet to the top. Most of the elevation gain comes after the brook crossing, and the change in grade is abrupt.
I rarely snowshoe, so I forgot how slow progress can be in deep snow, especially on steep slopes. And as we got higher we found that the snow, unlike down below, was still sugary. There was nothing for our snowshoe crampons to bite into. Often we'd take two steps forward and one step back. And sometimes it was one step forward, two steps back.
Although the trail is sparsely marked and little maintained, we had no trouble staying on route until we got fairly high. After skirting some blowdown, we could find no evidence of a trail. We started following the tracks of a snowshoe hare. The conversation took an ominous turn.
"Are we on the trail?"
"I hope this rabbit knows where it's going."
Eventually, we veered left out of the woods onto an open slope. By now, we were soaked from floundering in powder and brushing against snowy branches. The wind whipping across the summit set us shivering. The world was enveloped in fog, but we could make out the fire tower 50 yards away and felt obligated to push on.
We made it. There was no view. We turned around.
Fortunately, the descent was easier. We tried gliding telemark-style in our snowshoes. Tim, who is a good skier, seemed to have a knack for it. As for me, I was relieved when we reached our skis.
Given the dense snow at this elevation, the ski out was uninspiring. Tim gamely made a few turns, but I just pointed my skis downhill to get back to the car as quickly as possible.
If all this sounds like fun, perhaps I'll see you on Hurricane on some godawful Tuesday in February—if the fog isn't too thick. Truth be told, though, you're more likely to find me there on a bluebird powder day. I've decided solitude is overrated.