The Adirondacks are littered with plane crash sites. Here's a recent trek out to one of them.
By Tim Rowland
It was a spectacular day for a plane crash.
Not to be in one obviously, but to hike to a mountain flank where a corporate jet tasked with picking up Chester Davis, the prickly attorney of cinematic and aviation tycoon Howard Hughes, went down in 1972 while trying land at the Adirondack airport, killing two pilots and a stewardess.
In four years Hughes himself would be dead, and Davis embroiled in the controversy of the eccentric billionnaire's will — or wills; there were said to be 40 of them, including one "found" in the desk of a Morman church executive, purporting to leave vast sums to a gas station attendant named Melvin.
So add two more characters to that list of great personalities with at least tangential connections to the Blue Line. Exploring the crash site seemed consistent both as an outdoor adventure and as an ode to the six degrees of the Forest Preserve.
The hike was led by Scott van Laer, director of Paul Smith's College Visitor Interpretive Center, who as a DEC ranger had been tasked with tracking down and documenting the estimated 200 planes that have crashed in the Adirondack mountains.
There were good, practical reasons for doing so. Every so often, a hiker would spot debris in the mountains, and the state needed to be sure it was from an old crash, not a recent one. Second, there were so many crash sites, relatively speaking, that it was not unheard of for a search and rescue team hunting for a downed plane to find the wrong wreckage.
Van Laer took the job seriously, and it led to a side interest in aviation archeology, or, as its less decorously known, "wreckchasing."
"It turned out to be epic," he said. "There were so many great stories, and they're all very human stories." Some of the crash sites had (and have) never been found, and some mangled planes turned out to be miles away from where searchers had believed they had fallen.
If 200 seems like a lot, it is, and for reasons you would expect: big mountains, bad weather and a remote locale that was easier to fly than to drive to.
And this is just my own theory, but the ADK's history seems littered with a fair number of cowboys who in the early days of aviation more or less assumed that a motor was a motor, and if they could drive a car, tractor, &c. they could certainly fly a plane.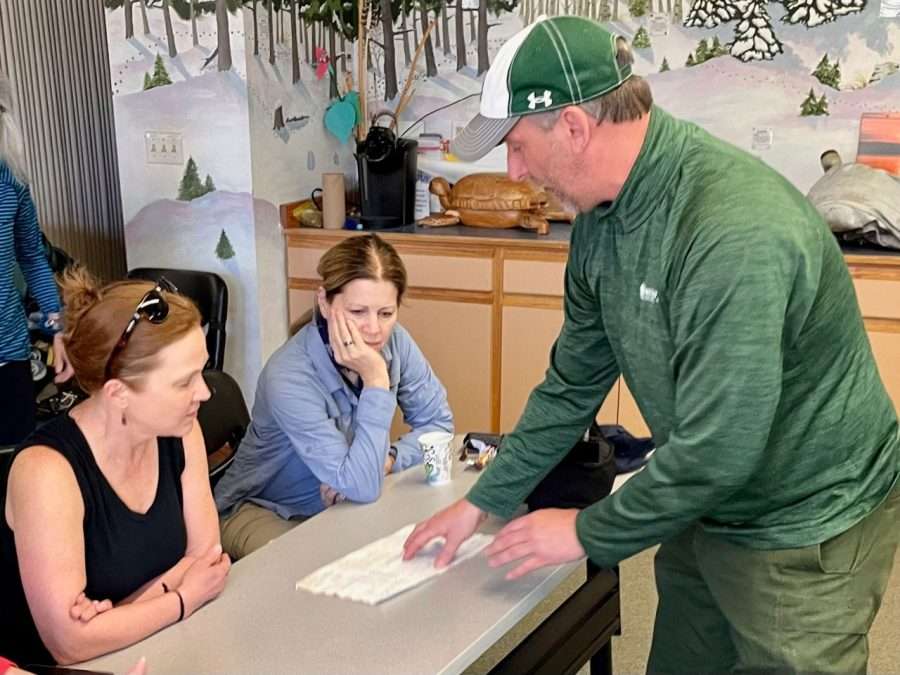 In 1942, the Ticonderoga Sentinel reported that two 23-year-olds decided to usher in the new year by breaking into a hanger at the Westport airport and pushing a plane out onto the grass strip. From there they managed to take off and yee-haw their way around Port Henry, climbing and diving, circling grain silos and the stacks of a steel company's sintering plant and ending up in a heap in a local hayfield. One survived.
The first aviation fatality in the Adirondacks had occurred five years prior, but early wrecks are harder to document, van Laer said. In the inaugural days of aviation, the line between a crash and an — all things considered — successful landing was often blurred.
Early crashes
The first Adirondack flight, which arrived in 1912, was followed shortly thereafter by the first Adirondack crash. The Adirondacks' first aviator may have also been its most famous. Eight years after Kitty Hawk, publishing magnate Bob Collier purchased a Wright Model B, and twice he went down with his airship, once in the Rio Grande, once on his Raquette Lake estate.
The first what you might call newsworthy crash in the Adirondacks occurred in 1919 during an "Around-the Rim" test/demonstration flight of the nascent Air Force's Glenn Martin bomber. Taking off from Bolling Field in Washington, D.C., the idea was to fly counterclockwise around the U.S. border, a journey that came to an abrupt halt in a farm field in Jay. The crew and plane were for the most part able to regroup after this mishap, van Laer said, and after a lengthy wait for parts to arrive in the Adirondacks, carried on with their (generally successful) mission.
This would be the first in a number of military crashes, most famously the B-47 bomber that slammed into Wright Peak in 1962 and a ​​Curtiss C-46 Commando that went down near Speculator and wasn't found for another year by search crews looking for another plane that had gone down in the same neighborhood.
The Lockheed JetStar that was the target of our hike, by contrast, is easy to find at this time of year, on the southeast nose of the mountain at about 2,000 feet. We accessed it by taking Route 30 a couple of miles south of Paul Smith's to an unsigned dirt road on the left and then following it to an obvious logging landing on the right.
The bushwhack is a bushwhack, encountering beech whips, spruce and a bit of a swamp before opening up to a more mature hardwood forest. The crumpled wreckage is strewn up the mountainside. While often the scene of human tragedy, these sites, to me anyway, have more the quality of an outdoor museum where we remember people who otherwise might not have been remembered at all.
We pored over the metal relics, some identifiable, some not. On that night 50 years ago, the pilots had been hunting for the poorly lit landing strip when the dark shape of the mountain emerged from the gloom. People on the ground told the Daily Enterprise they heard the jet engines roar as the pilot tried to pull up, but it was too late.
The next day, Chase told reporters he was leaving immediately on another jet. He could not keep Howard Hughes waiting.
Stay connected to the Adirondacks
The best way to keep on top of Adirondack Park issues,
community news and outdoor recreation
Subscribe to print/digital issues of Adirondack Explorer magazine,
delivered 7 times a year to your mailbox and/or inbox