Warren County history project uses new tools to tell old Adirondack tales
By Tim Rowland
Twenty-five years ago, Warren County tourism was dominated by Lake George. While understandable, County Planner Wayne LeMothe felt this gave short shrift to the western side of the county, where the upper Hudson River provided one of the foundational origin stories of the Adirondacks as we know it today.
Searching for a brand for the river communities from Stony Creek up to North Creek, stakeholders came up with the First Wilderness, indicative of the Hudson, and Thomas Durant's ensuing railroad, which were primary arteries to the Adirondack interior.
Planners, with $9.5 million in grants over more than two decades developed and marketed the First Wilderness Heritage Corridor, emphasizing tourism, community development and stories of old.
Today, that ancient history is meeting the whiz-bang world of artificial intelligence, geographic information systems and a new approach to historical storytelling.
This means that fascinating, long-dormant stories are getting a fresh look, and also that visitors — be they hikers, bicyclists, paddlers or motorists — will be alerted on their phones as they pass by a site of significance. They will then learn more by clicking on a StoryMap or listening to audio on an app downloaded from StoryCloud.
The project has been juiced by Dan Forbush and Bill Walker, founders of the media group Cliff & Redfield Interactive, with the help of interns from Skidmore College and SUNY Plattsburgh.
Forbush and Walker had been working on a somewhat parallel storytelling path in Saratoga County, and their technological approach was a natural fit with what was going on in Warren County.
Last February, Warren County and CRI announced a partnership for the promotion of heritage tourism in the Upper Hudson region, which was beefed up with content on CRI's website Stories from Open Space, a rich and varied collection of heritage-oriented hikes, bike rides, bushwhacks, paddles and other adventures that that provide more context than standard guidebook fare.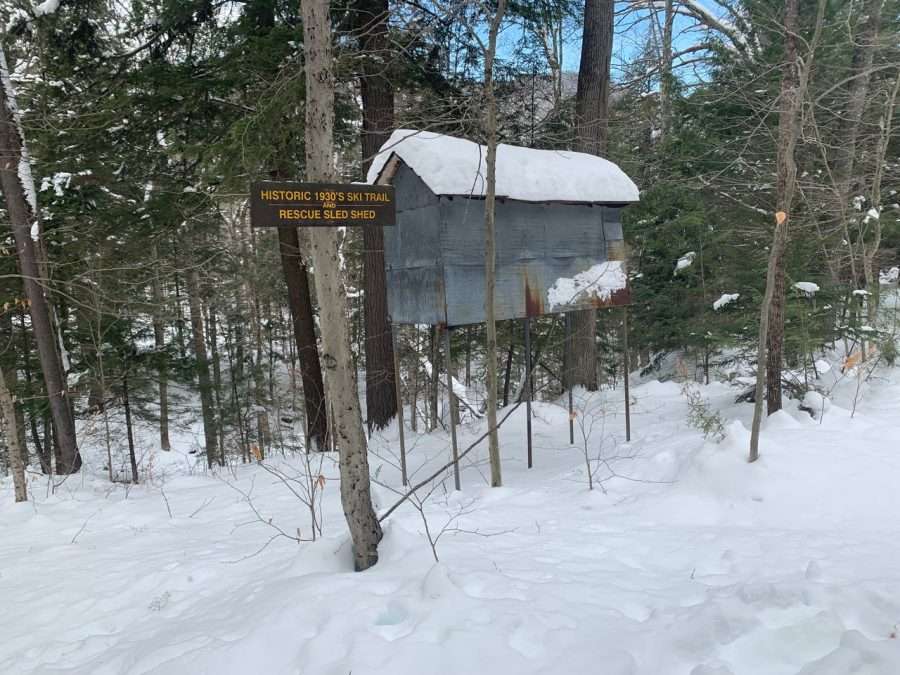 This year, Forbush said, more content and tech is on the way, including oral histories, audio stories told by local historians and podcasts. "Think of it as a GPS-triggered podcast that tells stories that relate to where you are. Quite amazing," he wrote on a web page explaining the process, using the trailside relic known as the Sled Shed — a first-aid hut on the Raymond Brook Trail — as an example.
For every hiker who has ever wondered at an old foundation, rusty relic or other backcountry curiosity — or for those who walked over seemingly unremarkable ground without knowing of its past significance — the technology can reach back in time with pop-up vignettes about matters of historic and cultural interest encountered on the trail.
And there is much historical grist from which to draw. "This was the first route into the Adirondack wilderness," said Warren County GIS Administrator Sara Frankenfeld. "The Hudson was a major feature (of Warren County) that tended to get lost to Lake George."
That history is a natural fit with recreation, and both benefit from Warren County's cutting edge mapping technology. As part of that initiative, Frankenfeld produced a Recreation Mapper, an easy and intuitive guide to Warren County trails.
Mapping lends itself to "spatial history" telling, which interprets various historical locations as a visitor arrives at the site, Frankenfeld said, as opposed to the more traditional chronological method.
Existing trails, scenic byways and bicycle routes lend themselves to interpretation, and story apps can be downloaded, meaning that cell service is not essential. This student-driven side of the project is detailed on CRI's Smartacus website.
The team is exploring such varied matters such as the "snow trains" that brought skiing to North Creek, Warren County's segment of the Underground Railroad and points of interest encountered along Hudson River rafting trips.
These collaborations go beyond the simple explanation of a location or artifact, such as examining how John Apperson and Paul Schaefer used photography and film to shape public opinion of the Adirondacks, or how a proposed dam might have devastated communities in the Schroon River Valley.
The work will also lead to podcasts and print-on-demand books.
Along with plans to release Underground Railroad content in the coming weeks to coincide with Black History Month, the group will also commemorate events, including the 90th anniversary of the first snow train, to be celebrated in March 2024, and the 250th anniversary of the American Revolution in 2026.
---
Plan your next Adirondack adventure
Full Guidebook Set