Though based in the South, Molpus Woodlands owns 240,000 acres of Adirondack forest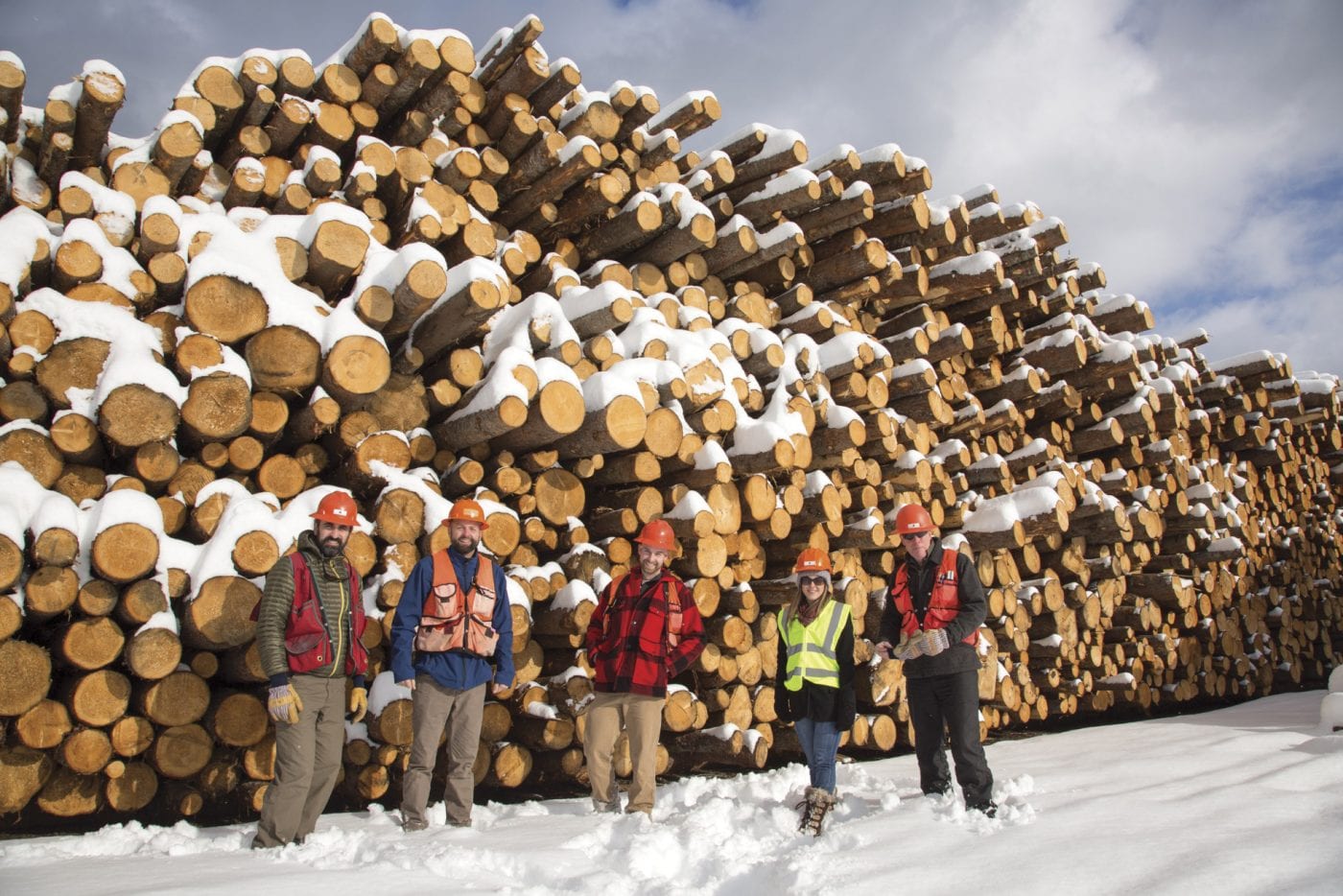 By Tim Rowland
You may not have heard of the Molpus Woodlands Group. It's a timber company based in Mississippi, and most of its holdings are in the South and the West. But Molpus happens to be the biggest landowner in the Adirondack Park—if just barely.
The company, which started buying lands in New York State in 2007, says it owns 240,000 acres, primarily in the northwest sector of the Park. Lyme Timber, based in New Hampshire, owns 239,000 acres here.
"We love the Adirondacks, we enjoy the people, and we enjoy working there," said outgoing President Dick Molpus, who believes the forests here can provide a steady source of investment income for his clients. With the American population expected to increase by 50 percent over the next thirty years, the demand for forestry products is expected to grow apace.
Molpus Woodlands began investing heavily in the Adirondacks about five years ago, with the purchase of 131,000 acres from Rayonier. In 2014, it acquired another 112,000 acres from Forestland.
Molpus is a timber-investment management organization, or TIMO. TIMOs buy and manage forests for high-end clients, particularly those with long investment timelines, such as endowments, trusts, and insurance companies. Nationwide, Molpus owns more than two million acres, while its assets stand at $2.5 billion. The company's website says its return on investments "significantly" beats the industry average of 5.5 percent.
Molpus Woodlands is selling the company to its employees, a process that will be completed by 2020. Dick Molpus said he did not want to sell to an outside interest, lest the buyer's commitment to forest stewardship be less than desirable.
About half of the company's investments are in the southeastern United States, mostly loblolly pine-tree plantations. But Molpus said his company is a fan of northern hardwoods, and it has sought out large tracts of timber not just in New York, but also in Pennsylvania, Michigan, and Minnesota. All told, it has holdings in eighteen states. Even though other timber companies have sold their Adirondack holdings, Molpus remains bullish and plans to acquire more tracts.
In the nineteenth century, the ravages of loggers led to the creation of the Adirondack Park and the forever-wild Forest Preserve. Forestry practices have much improved since the bad old days. Indeed, most of the large timber holdings in the Park are protected by conservation easements that require landowners to abide by sustainable-forestry principles designed to protect the environment. The state-owned easements also prohibit subdivision and development.
For the most part, environmentalists agree that logging is no longer a dirty word. Nevertheless, they have concerns about the effects of large-scale timber harvests, and the company and state regulators don't always see eye to eye. But all agree that modern logging is a far cry from the days when forests were mown like hay and tourists blanched at the parched, denuded eyesores left behind.
Keith McKeever, spokesman for the Adirondack Park Agency, said the forest industry is good for both the economy and the environment, because it provides employment and protects open spaces that might otherwise be vulnerable to housing or other developments.
Molpus has had two relatively small projects (just under five hundred acres) come before the APA, both for overstory removal. This involves cutting mature trees that are damaged or otherwise undesirable, allowing the younger trees the sunlight and nutrients they need to thrive. In both cases, McKeever said, Molpus complied with APA edicts.
"We find them to be very professional," McKeever said. "They stay within the regulations and want to do what's in the best interests of the forest."
Most of the Molpus timberlands are protected by easements that dictate the terms of land use. This is where it gets tricky for anyone trying to cut timber, since the easements can vary greatly from tract to tract. Tim Burpoe, who manages Molpus Woodland's holdings from an office in Saranac Lake, said the company is dealing with seven easements, enacted between 1988 and 2004, all with different motivations in mind. The general intent is to prohibit development, but they can vary in terms of allowable recreational or commercial uses. These easements can butt up against each other with boundary lines that are difficult to discern. Whereas lumberjacks of old relied on little more than their trusty ax, a modern-day forester's most important tool is often a GPS.
Then there is the paperwork. Timbering in the Adirondacks "is a complicated process," Burpoe acknowledged, especially compared with cutting logging in less-regulated environments. Molpus is certified by the Sustainable Forest Institute and the Forest Stewardship Council and, to maintain its certification, is subject to third-party audits of their forestry practices. But rather than fight it, Molpus has learned to turn state-mandated oversight into a competitive advantage.
"It's been great for us," Burpoe said. "It's such an interesting relationship that only certain companies can do it. We have our differences, and sometimes we just have to agree to disagree, but overall it works well."
Rocci Aguirre, conservation director for the Adirondack Council, said Molpus's willingness to come to the table and talk about their differences is a key reason that Molpus, and similar TIMOs such as Lyme Timber—which also has a good track record for conservation—have gained the respect of environmental groups. "We have not always agreed on everything, or in some cases anything, but we've appreciated that they've come to these discussions when they didn't have to," Aguirre said.
Any disagreements that do arise tend to be about how much of a forest should be cut and about the aesthetic impacts of cutting.
In modern forestry, most everyone has the health and well-being of the forest in mind, but there are different approaches to the same goal. Take clear-cuts, for example. To a forester, a clear-cut, as it is defined today, can be a beautiful thing: an open area liberally studded with young maple, cherry, and poplar ready to take off because the mature, sometimes dying, canopy has been removed. But even though these are not barren-land clear-cuts of the old days, it's still obvious that significant logging has taken place.
Aguirre said many visitors do not expect to see such scars in the Adirondack Park. "To the layperson, the importance of aesthetic values is huge," he said.
Peter Bauer, executive director of Protect the Adirondacks, questioned the sustainability of an economic model in which logging companies have been buying land from other logging companies at ever-increasing prices. He said this could lead to more aggressive cutting.
"That's the paradox," Bauer said. "If they keep selling for higher prices will we continue to have the high-canopy forest?"
Dick Molpus said the nature of his clientele gives the company the luxury of cutting selectively, then waiting for the new forest to mature. "We grow more trees than we cut," he said. The pension funds and endowments that Molpus caters to extend, in theory at least, into perpetuity, so they are not mesmerized by quarterly returns, as are more traditional investors. And modern forestry is more than high-value saw logs that go into lumber, furniture, and veneer.
"We can't in good conscience just go through and take the high-grade stuff," Molpus said. The choice hardwoods that Molpus cuts, primarily birch, red maple, sugar maple, and cherry, attract brokers from across the country and Canada.
Low-grade material has always gone to paper mills, but now the slash that used to be bulldozed into piles and left to rot can be used as biomass fuel—all of nearby Fort Drum's electricity is fueled by biomass.
But while the overall outlook is long-range, quirks in the market can have an effect on forest management. If prices are depressed, trees can simply be left standing. Margins become particularly important at the lower end of the food chain; pulpwood, for example, depends on nearby mills lest transportation costs eat up all the profit. Most of these mills have shut down and moved to Canada, but talks of higher tariffs in the Trump administration could increase the prices of paper products Canada sends back across the border. As such, Burpoe said he's strongly suggesting to Molpus's Canadian customers (which buys 60 percent of Molpus's Adirondack wood) that this might be a good time to move a mill or two to New York, putting local people back to work.
Molpus itself employs five people in its local office and contracts with three forest consultants. It works with eight to ten lumber contractors, ranging from mom-and-pop operators with four or five employees to some with a hundred or more. TIMOs also play a role in recreation, leasing land to hunting clubs and in some cases facilitating trails for hikers, snowmobiles, and ATVs. Policing such vast tracts of land can be problematic, but Burpoe said problems of unauthorized use are relatively rare.
Managed forests can be tweaked to encourage growth of certain species, but for the most part Burpoe said the goal is to keep the mix of trees found in the traditional northeastern forest. "We're such a small snapshot in time, we don't really steer it one way or another," he said. "We're just trying to improve our forest from what we purchased it as."
It's an outlook that would have been entirely alien to a nineteenth-century lumberjack. "We're diametrically opposed to the way timber was originally cut in the Adirondacks," Molpus said. "Our goal is that we leave the property with more timber and in better shape than when we acquired it."