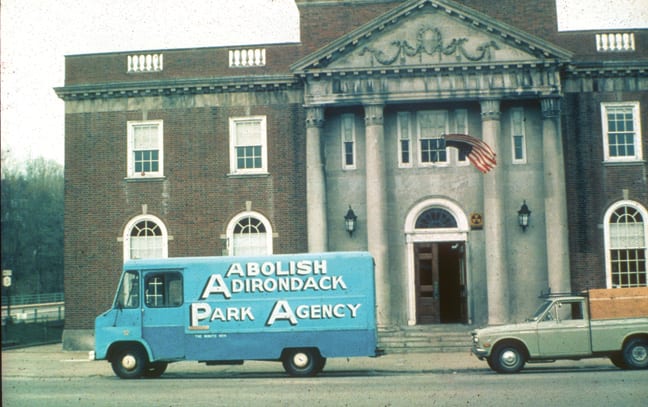 Abbie Verner's head-on collision

This is the first in a nine-part series that tells the story of the at-times contentious campaign to create the Adirondack Park Agency, which marks its 50th anniversary in June. Adapted from the new book "A Wild Idea: How the Environmental Movement Tamed the Adirondacks," the author interviewed more than 50 people who fought for and against the APA, some of whom have since died. 
By Brad Edmondson
On June 5, 1971, two days before the New York State Assembly passed the Adirondack Park Agency Act, a group of environmental activists ran into a group of developers in a hall outside the Assembly chamber.
"We all came together in a head-on collision," remembered Abbie Verner. "Everyone started bellowing, and at one point I almost hit Red Plumadore over the head with my purse."
Abbie was with her husband, Bill Verner, an activist and museum curator. Bill worked for Harold Hochschild, the chairman of the commission that had recommended strict regulations limiting development inside the 6-million-acre Adirondack Park. Their posse included fellow activists Paul Schaefer, David Newhouse, and Almy Coggeshall, who had been working toward this goal for decades.
Abbie's opponent, Hayward "Red" Plumadore, was focused on the 3.5 million acres inside the park that were privately owned. He was chair of the Franklin County Republican Party and a big landowner. He had sold 18,500 acres to developer Louis Paparazzo, who wanted to build a 4,000-lot subdivision on marshy land a few miles north of Tupper Lake. Plumadore and Paparazzo were accompanied by Assemblyman Glenn Harris and Essex County legislator James DeZalia, leaders of the opposition to the APA.
"I had taken a telephone poll in Long Lake the week before and had found quite a few people who were in favor of the Agency," Abbie wrote. "I had typed it up, and Bill shoved it in the faces of Glenn Harris, Plumadore, and DeZalia. At that point DeZalia told me I was a liar, and Bill rushed around Glenn Harris (and believe me, you do have to go around Glenn as he is not a particularly small person) and I panicked, thinking Bill was going to punch DeZalia in the nose. He said, 'you call my wife a liar, do you?', and I wished that I could faint on command.
"But Plumadore relieved the whole situation for me by shouting, 'you people (meaning Bill) have a vociferous, well-organized group that can make all these telephone calls.' That remark amused me considerably, so I replied, 'yes he does, and here I am.' That was a highlight for me. I have always had a secret desire to be known for something, and I never suspected I would be called a 'vociferous, well-organized group.'"
The environmentalists were on the verge of victory, and not in the mood to compromise with anyone who wanted to despoil 29 square miles of their beloved Adirondack Park. But the developers and pro-business politicians were just as worked up. They believed that private property is private, and that the Adirondacks didn't need more wilderness. It needed jobs.
This wasn't a new argument. In 1971, Clarence Petty had been listening to people go back and forth about it for 65 years.
---
---