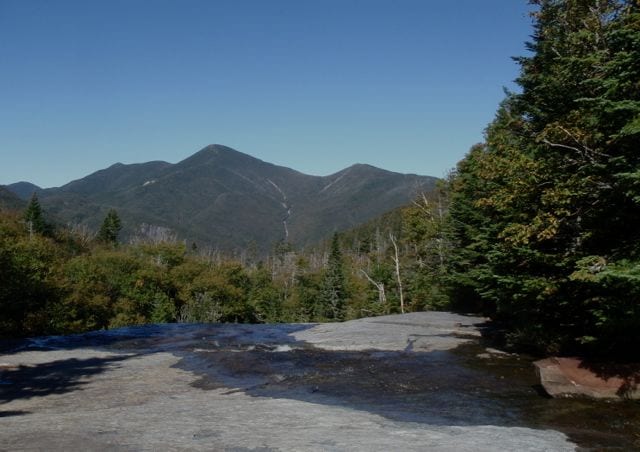 The following is a statement released by the state Department of Environmental Conservation about a search-and-rescue incident that took place Monday. The incident overlapped with another rescue occurring near Gothics Mountain. 
On July 30, 2017 at 11:30 pm a group of four hikers on the summit of Algonquin Peak contacted DEC Ray Brook Dispatch requesting assistance. The group consisted of an 18 year old from Chalfont, PA; an 18-year old from South Hampton, PA; a 20 year-old from and a 18-year old both from Landsdale, PA.
The DEC Forest Ranger spoke to the group by phone. Upon learning they were not lost, none were injured or distressed and they had lights and other gear the Forest Ranger directed to the correct trail and their campsite.
On July 31, at 6:03 am the same group contacted DEC Central Dispatch via Essex County 911 and reported that members of the party had spent the night off-trail near the summit of Algonquin. They were dehydrated and ill and did not know their location. Essex County 911 was unable to obtain precise coordinates of the cell phone at that time. A Forest Ranger, assisted by the Lake Colden Interior Outpost Caretaker and the Algonquin Summit Steward, immediately responded and began to search for the group.
At 11:06 am, Essex County 911 was able to obtain a set of coordinates on the west slope of Algonquin Peak. The coordinates were provided to the searchers via DEC Ray Brook Dispatch.
Searchers located the group of hikers at 11:27 am. It was determined that one member of the group was in such distress he was unable to return to the campsite on his own. A State Police Aviation Unit helicopter with a Forest Ranger on board assigned to the nearby search on Gothics was redirected to the Algonquin Rescue. The helicopter picked up the young man from the summit of Algonquin and transported him to Adirondack Medical Center Lake Placid. Forest Rangers escorted the remaining members of the group back to campsite at Marcy Dam.