Jay flower farm installs community-scale composter
By Tim Rowland
Through the years there have been community grocers and community pharmacies — now, meet your community composter.
In the Town of Jay, that would be Little Farmhouse Flowers, where residents can drop buckets of scraps at the end of the drive, and three to four weeks later, those scraps will emerge from the end of a voracious, 40-foot stainless steel cylinder in the form of sterile growing medium from which will sprout great sprays of blossoms.
"We're proud to offer this service to people in the community who are interested," said Linda D'Arco, owner and floral designer at Little Farmhouse.
This 'stiltskinian process of spinning waste into flowers is also a roadmap for how a typically ecologically challenged industry can become not just sustainable, but a regional asset.
Through much of her career, D'Arco taught school in the winter and played with flowers in the summer throughout the Northeast, before landing in Lake Placid's North Country School, which under the tutelage of John Culpepper, has been at the composting forefront.
Noticing the number of events, primarily weddings, in Lake Placid every year, and noticing that most all of the flowers were flown in from afar, D'Arco struck out on her own to offer not just locally grown arrangements, but also to raise an array of bee-friendly pollinators.
Operating on 2.5 acres, Little Farmhouse raises flowers for local supermarkets, shops and farm stores, ships nationwide and caters to 30 to 50 weddings a year.
The one gap in the circle of sustainability was the sterilized starting medium, which was typically peat. But peat bogs are valuable carbon sponges, and D'Arco wanted another source. "We were trying to compost, but we weren't doing it very well," she said. The regular turning of compost piles by tractor was labor intensive and without scrupulous care, it was hard to maintain the temperatures needed to kill weed seeds and soil-borne pathogens.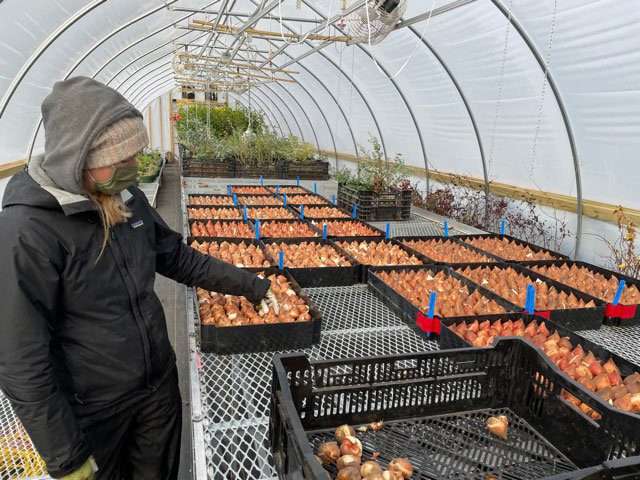 That's when Katie Culpepper, daughter of John and co-founder of Compost For Good, saw an opportunity. Compost for Good, founded by the Culpeppers and Jennifer Perry and run under the auspices of the AdkAction advocacy group, works to generate compost at a community level and designs commercial-size composters. Culpepper thought Little Farmhouse might be a good candidate for a grant from the New York Pollution Prevention Institute to pay for one of these in-vessel, high-volume mechanical composters. She was right.
The machine runs on a strict ratio of nitrogen to carbon. For every pound of nitrogen-rich food scraps, .274 pounds of wood pellets are fed into mechanical maw, which augers the unspeakably fragrant stew into the belly of the beast, where it cooks itself into a rich and pleasantly earthy seed starter.
"There's a lot of a learning process," D'Arco said, as things like density and moisture of the waste affects the ideal ratio.
Plans for the composter are open-source, and Compost For Good, through education and assistance, hopes to site more of them throughout the region. Further information about its mission can be found at adkaction.org.
Under the terms of the grant, Little Farmhouse must process a ton of scraps a week. Along with drive-bys, Little Farmhouse offers a unique service to bolster its composting effort: When employees deliver flowers to a residence, they offer to take away any and all food scraps.
This month, ADK Action sponsored a drive to compost shriveling jack-o-lanterns and pumpkins, which otherwise might have wound up producing methane in a landfill. Instead, they will go toward enrichening Adirondack soils.
The market for scraps will increase significantly next year, when a new law goes into effect requiring most commercial and institutional operations that generate an average of two tons of unused food a week to donate leftover, edible food to those in need, and recycle remaining food scraps.
D'Arco said she hopes to strike a deal with event venues that will be mutually beneficial. And if that happens, by next summer, the food waste from one wedding might well be growing flowers for the next.
---
Don't miss a thing
Sign up for our "Adk News Briefing" newsletter, a weekly look at the hottest Adirondack stories