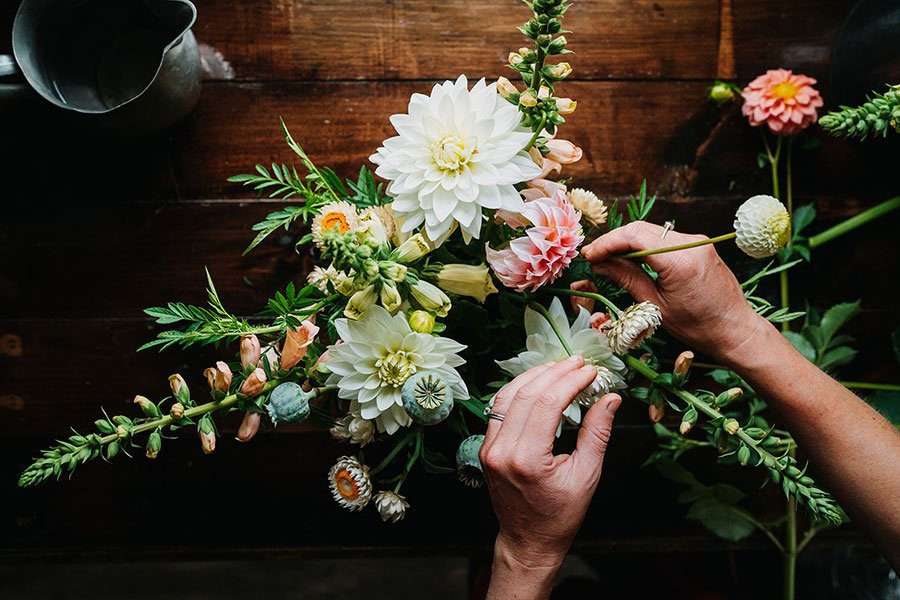 Adirondack flower farms bring unique additions to the region's agricultural landscape
By Holly Riddle
When you think Adirondack agriculture, you might not immediately think of flower farms. After all, a region known for its harsh winters doesn't necessarily sound conducive to growing something as delicate as a field of lavender or peonies. However, five Adirondack flower farms are producing a range of blooms across the park, while offering unique services and experiences to those lucky enough to discover their offerings.
Champlain Peony Company
One of the newest in the bunch is Champlain Peony Company. When speaking with brothers Will and Eric Sherman, the two have a lot of ways to describe their new family venture in Essex: A flower farm, curiosity stop and agri-cultural attraction.
Still under construction, but with a soft launch date planned for May 1, the company's barn sits on Route 22 and will eventually encompass a shop, cut-your-own flowers, test and trial gardens and a music venue, in addition to a broader, off-site farm.
As can be assumed by the name, the Champlain Peony Company's specialty will be peonies. Will Sherman, who has a horticultural background, notes, "Peonies do tremendously well up here. They always have. Everybody loves them and everybody has them in their yard, but you don't find them as cut flowers very much." 
This year, Will Sherman ordered 45,000-plus peony plants from the Netherlands to both sell to the public as roots and to plant. Since peonies require three to five years to come into full bearing, he anticipates there won't be many cut peonies produced from the Champlain Peony Company fields for the next few years, so, in the meantime, he plans to offer the roots, potted plants and other flowers, like gladiola corms, in the retail nursery. Looking further out, he has 500,000 spring flowering bulbs on order for the fall, including tulips, daffodils, irises and lilies. He also anticipates offering a wide array of specific types of flowers, such as 175 different types of dahlias and 280 different types of the namesake peonies.
The Shermans anticipate substantial growth over the next five to 10 years, expanding both in terms of production and employment. Will Sherman explains that, despite the Adirondacks' harsh winters, the region's climate is not so different from that of the Netherlands, where peonies are one of the country's largest exports. 
"Almost every variety of peony that's out there will grow here, because of our climate. Peonies love that long dormant period," Will Sherman says. "I don't think anyone who's grown up here doesn't know what peonies are. It's a flower that people associate with good times, with good memories, usually with grandma, or summer … For me, it represents growing up here. There's a lot of nostalgia with that particular flower." 
Champlain Peony Company's retail location will be located at 1444 New York Route 22, Essex. www.champlainpeonycompany.com.
Mossbrook Roots Flower Farm and Florist
Mossbrook Roots Flower Farm and Florist has been around since 2017. Started by Jackie and Jim Wheelin, the farm in Keeseville also offers full florist services out of an additional Plattsburgh location. Arrangements, wedding florals and u-pick flowers just scratch the surface of what Mossbrook provides. The farm likewise boasts a small event space and, new this season, will be offering a wholesale option to floral designers and other local florists, in the form of pre-made, paper-wrapped bouquets.
For the person who wants some flowers to liven up their space without the u-pick work, Mossbrook offers a CSA-esque Flower Share program, available in full and half shares (equivalent to 15 or eight bouquets, respectively) for pick up at locations around Plattsburgh, Keeseville and Lake Placid.
One of the farm's primary draws is its regular events throughout the summer, including a dinner series. Jackie says, "All of the events are so fun. We are offering three Field to Vase dinners this year — one in the display garden, one in the sunflowers and the third in the main flower field. We have awesome caterers involved and local wineries."
Mossbrook Roots Flower Farm and Florist is located at 614 Mace Chasm Road in Keeseville and the farm is open to visitors May–November, Monday–Saturday. For more information about upcoming events, visit mossbrookroots.com.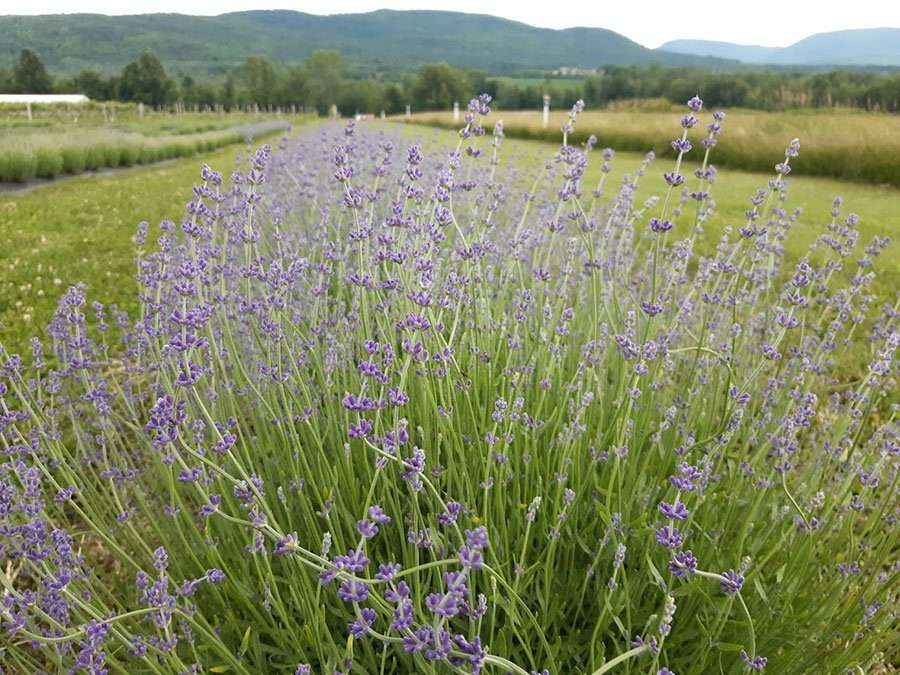 Adirondack View Vineyard & Lavender
Also in Keeseville, Adirondack View Vineyard & Lavender is serving up a bevy of fun events this season. Beyond the self-service farm store being open every day of the week, May 1–Oct. 31, the farm also hosts u-pick lavender days, June 25–26, July 2–3, July 9–10 and July 16–17. Other events on the calendar include Yoga in the Lavender Saturdays and a brand-new Fairies in the Lavender event for children on July 9.
If Champlain Peony Company is the expert on all things peony in the region, Adirondack View Vineyard & Lavender is the expert on all things lavender. "We grow English and French lavender in many different varieties. Each variety has a different bud shape and comes in many different colors — light purple, dark purple, pink and white. The farm has over 2,000 lavender plants and we are still expanding," says farm owner Lindsey Pashow.
However, lavender isn't exactly the easiest thing to grow in the Adirondacks. She notes, "We knew that it was like potentially possible to grow lavender, but we knew that it was a crop that was going to take a lot of like tender loving care to grow, because we're not technically in the right zone to grow it. People do have lavender around their homes, but to grow in a large scale, it's kind of a risky crop to grow. It all has to be covered in the wintertime and when plants die out, we just have to re-plant them."
Still, the challenges are worth it for Pashow, who is also a single mom and a statewide specialist for Cornell Cooperative Extension. She looks forward to the multiple ways the farm continues to expand, and loves interacting with the other flower farms in the region, noting that "we're all able to be in the market and work together, and everyone had a unique operation … Everyone's doing amazing work."
In addition to lavender and u-pick grapes, Adirondack View Vineyard & Lavender also offers lavender products, sunflowers, zinnias, pumpkins and berries, seasonally. To learn more about the vineyard and lavender farm, as well as about upcoming events, visit www.adirondackviewvineyard.com. Located at 59 Thompson Road in Keeseville.
Sunwarm Gardens
Sunwarm Gardens makes the flower-shopping process as easy as possible for locals. There's no need to hop in your car to visit a regional flower farm, because this Vermontville farm brings the flowers to you. The business's subscription service, June through September, delivers fresh, seasonal bouquets to homes and businesses all around the Tri-Lakes area. The subscriptions are customizable to an extent, making them suitable even for vacationers who only spend a portion of their summer in the Adirondacks.
Owner Ellen Beberman also notes Sunwarm Gardens offers an array of flowers that can be hard to get unless you grow them yourself. "I have a lot of specialty flowers that aren't necessarily found elsewhere," she says, "things like Foxgloves [or] Icelandic poppies — flowers that don't ship well that you won't necessarily find at florists'."
Sunwarm Gardens is located at 222 Swinger Road in Vermontville. On-site farm visits must be arranged in advance. www.sunwarmgardens.com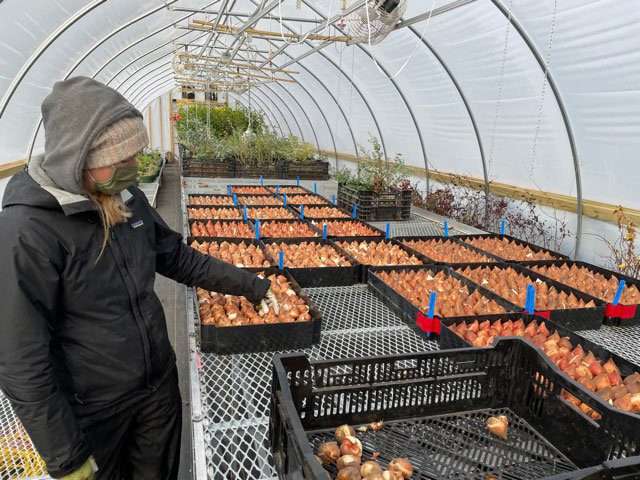 Little Farmhouse Flowers
Little Farmhouse Flowers sets itself apart with a focus on sustainability. Owner and founder Linda D'Arco is one of four U.S. founding ambassadors to the international Sustainable Floristry Network, an organization aiming at making the floral industry more sustainable via efforts such as sustainable flower sourcing, eco-friendly design and using fewer single-use products. The farm is one of the few in the Adirondacks to continue growing flowers even in the winter months, as its tulip-forcing operation makes it possible to bring approximately 100,000 tulips into bloom between Christmas and June.
From her location in Jay, D'Arco welcomes visitors for in-person shopping at her floral studio, or for growing the 10,000-square-foot display garden that includes spring flowers, cold-climate perennials, eye-catching annuals and flowering vines. This summer, the farm is offering eight workshop events, with workshops focusing on different types of flowers. For those who'd like to brush up on their horticultural know-how, but can't make it out to the farm for a workshop, they can check out the farm's Frost on Flowers podcast about cold-climate flower growing, hosted in collaboration with von Trapp Flowers.
Located at 593 Stickney Bridge Road in Jay. www.littlefarmhouseflowers.com